Yukata Plan
Wear a yukata that eases the summer heat.
Once you slip into our yukata, you will feel the breeze on your skin.
Listen carefully to the konchikichin sound of the Gion Festival bells. We at Kyoshoan can prepare a yukata set for you, once you make your reservation.
The yukata, obi, geta (Japanese wooden sandals), and other yukata-dressing accessories that you wear will be yours to take home as a present. Since we provide everything, please just bring yourselves.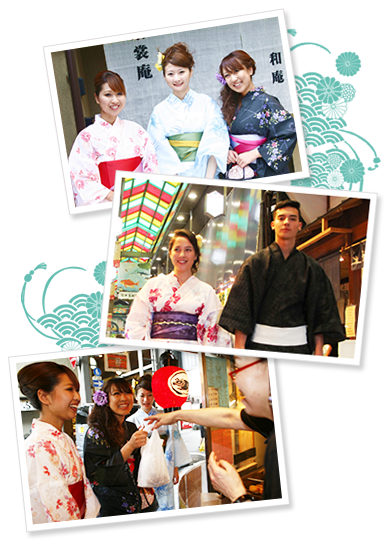 Business Hours
10:00AM - 6:00PM
Price
7,800 yen (plus tax) for men and women
Available Sizes
Available Sizes

Women

: Up to 170 cm (height), 90 cm (waist size)

Men

: Up to 185 cm (height), 100 cm (waist size)
*The yukata, accessories, and dressing service are all included in the price. Please only bring yourselves.
*This plan can be used from one person.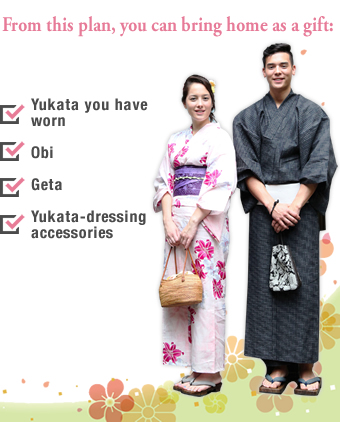 Delivery Service
We can arrange to deliver your clothes to your hotel and other accommodations. (Delivery to some areas may not be possible.)

For 1 person: + 1,000 yen (For 2 or more people + 500yen/person)

We could also arrange for delivery to your home:

From +500 yen (plus tax)
Yukata-dressing Class
Yukata-dressing Class (for 2 or more people):


+3,000 yen (plus tax)
Hairdo Plan
For our customers who would like to wear kimono/yukata and have their hair professionally done! This professional hairdresser service is very popular with our customers and requires reservations.
Hairdo Plan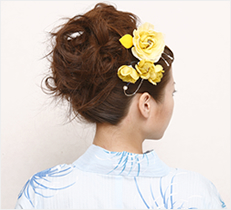 Hairdo Plan Reservation Information (for our kimono/yukata rental customers):
| | |
| --- | --- |
| Until 5:00 PM 1 day before | 1,500 yen (plus tax) |
| After 5:00 PM 1 day before/Same-day | 2,500 yen (plus tax) |
Other Fees
Requires reservations
Makeup
3,240 yen (tax included)We can also teach you the makeup style that suits you. Customers who bring in their own kimono, rent kimonos/yukata from our shop, and wear kimono/yukata at our shop can all choose this option.

Requires reservations
Hairdo and Makeup
5,500 yen (tax included)
Cancellations
The reservation cancellation charges are listed below:
・Up to 2 days before: No charges
・Up to 1 day before: 50% cancellation charge
・Same-day cancellation: 100% cancellation charge